I am so very proud of the pictures! They turned out so beautiful! It gives everything so much character!

This one is a new piece And so beautiful! The colors are so vivid and the piece and very stunning! It is made with Amethyst Light and dark Swarovski Crystals. The beautiful Display bowl and spoon I got at a yard sale for $1 and I used it for alot of pictures yesterday! It gave alot of pieces so much character!




This necklace is ALL Swarovski Crystal and so beautiful! Very stunning and vivid as well! Again I used the oriental bowl and spoon, for this piece the necklace drapes off the handle of the spoon and the way it lays behind the Piece really pops!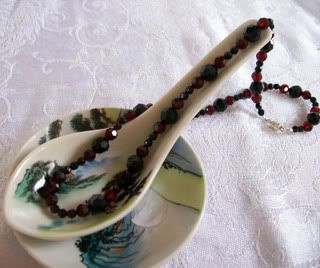 This set of Earrings has always been one of my Favorites! It is all sterling silver a hoop beaded with 2mm sterling silver beads and one Swarovski Crystal Draped with chain to make a gorgeous chandelier Earring! It is displayed on the top of a rust colored rock that has been hollowed out like a bowl. Also found at a yard sale!




So make sure to visit my Etsy Site! I am not completely done with the change over I still have about 15 pieces to retake pictures of and 20 more pieces to list! Keep watching for more changes!